Quit smoking with Hypnotherapy
By the time most people think of using hypnotherapy to help them give up smoking they have tried many other methods: nicotine patches, nicotine gum, will power and self help books. The problem is you will be always fighting against your sub conscious mind. At Hylands Hypnotherapy I teach you how to use your own sub conscious to assist you to stop smoking.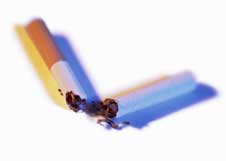 Can I really stop smoking??
…YES… So why does hypnotherapy work where everything else has failed? Because with hypnotherapy, you remove the smoker mentality and the reliance on nicotine especially in times of stress. Instead you think like a non-smoker and therefore behave like a non-smoker even if facing a stressful situation.
In a session lasting no more than 1½ hours your dependency on those smelly little white sticks will cease and if you start to waiver you can always come back for a top up session for no extra cost. Make that change to a more healthy life style today and book your session with Hylands Hypnotherapy …set yourself free…
The session takes up to one and a half hours, has an excellent success rate and includes telephone support, guarantee of further sessions free of charge in the unlikely event they should be required.
"After trying every conventional way to stop smoking I went to see Karen. Hypnosis took all the stress out of giving up. It was amazing! Even other people lighting up doesn't bother me now. I feel healthier and happier." Adam Knutsford